Due to relevant events, such as the EXPO2015 in Milano and the Holy Shroud Exhibit that will take place in Turin (from April 19th to June 24th 2015), it is warmly suggested to complete your hotel reservation in advance.
Many hotels are available in Torino, which can be contacted using any on-line reservation system.
Special MEMEA 2015 fares were defined, for a limited numbers of rooms and early reservation, with some Hotels, located nearby the Symposium venue.
For your reservation in these Hotels, please contact directly the Hotels by using the reservation forms provided below; the special reservation code for each is "MeMeA2015".
---
Best Western Hotel Genova
Via Paolo Sacchi, 14/b, 10128 Turin, Italy
IT: + 39 011 562 9400
[email protected]
http://www.albergogenova.it/en/home-page.aspx
• Single room: 90 € per night
• Double room use single: 100 € per night
• Double room: 120 € per night
Breakfast included – free wi-fi
Early reservation: before April 8th
Please click here for the reservation form
The hotel is directly connected to Castello del Valentino, Viale Pier Andrea Mattioli, via line 9 (13 min) as shown in the map below (yellow route):
---
Best Western Hotel Genio
Corso Vittorio Emanuele II, 47, 10125 Turin Italy
IT:+ 39 011 650 5771
[email protected]  
http://www.hotelgenio.it/en/home-page.aspx
• Single room: 95 € per night
• Double room use single: 110 € per night
• Double room: 125 € per night
• Superior room upgrade: 20 € per night
Breakfast included – free wi-fi
Early reservation: before March 23rd
Please click here for the reservation form
The hotel is directly connected to Castello del Valentino, Viale Pier Andrea Mattioli, via line 9 (8 min) as shown in the map below (yellow route):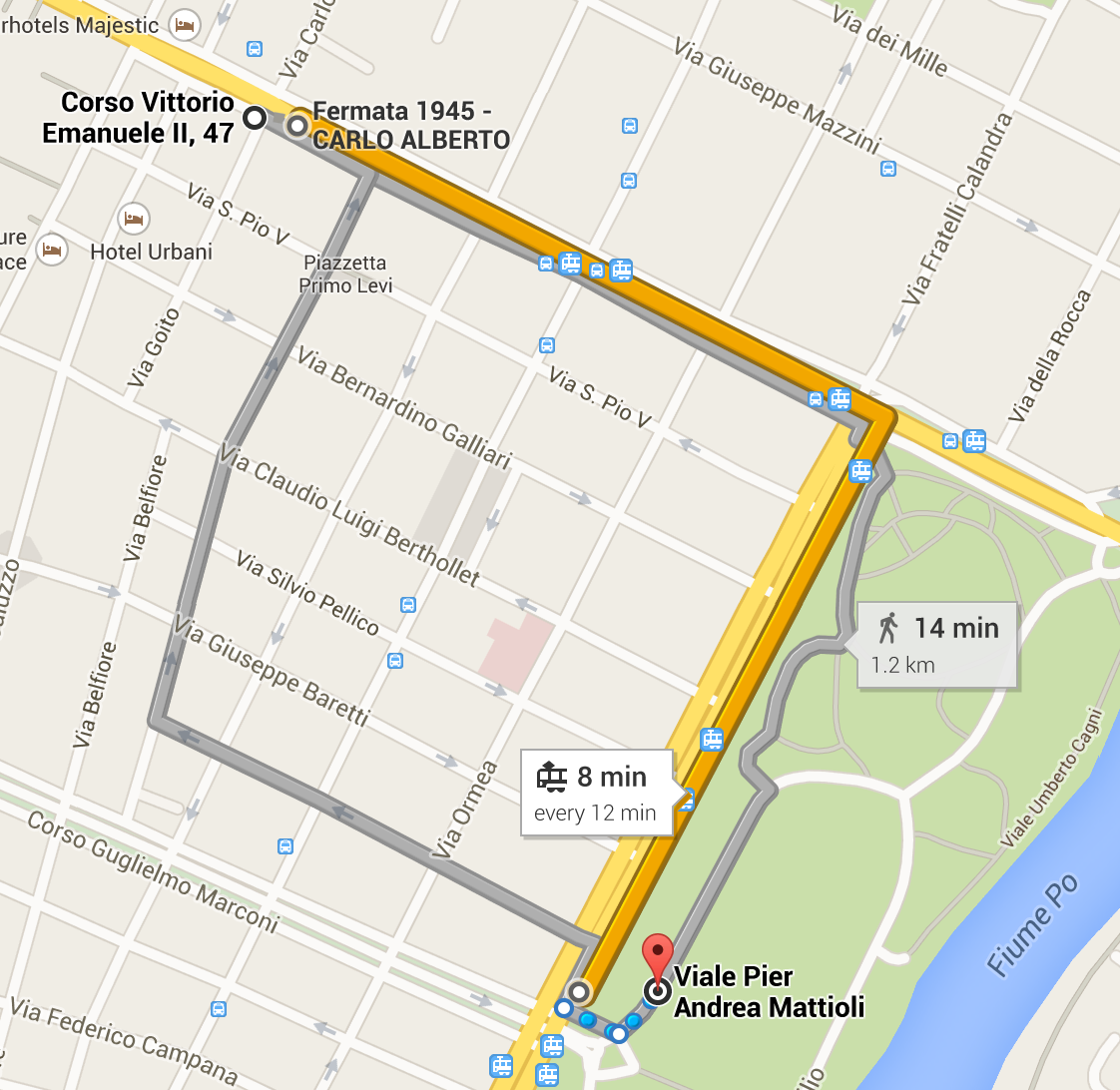 ---
DUPARC CONTEMPORARY SUITES
Corso Massimo D'Azeglio,  21 - 10126 - Turin Italy
IT:+ 39 011 650 8383
F+39.011.650.94.26
[email protected]
​http://www.duparcsuites.com/default-en.html
• Superior suite (88 m2 - living room, bedroom, separate kitchen): 138 € per day, per night
• Luxury suite (50 m2 - studio with sitting area and king bed, fridge, microwave): 130 € per day, per night
• Luxury suite (60 m2 - living room, bedroom, fully equipped kitchen): 140 € per day, per night
Breakfast included – free wi-fi
Early reservation: before April 8th
Please click here for the reservation form
The hotel is walking distance to Castello del Valentino, Viale Pier Andrea Mattioli, and is directly connected via line 9 as shown in the map below (line 9: yellow route – walking distance: gray route):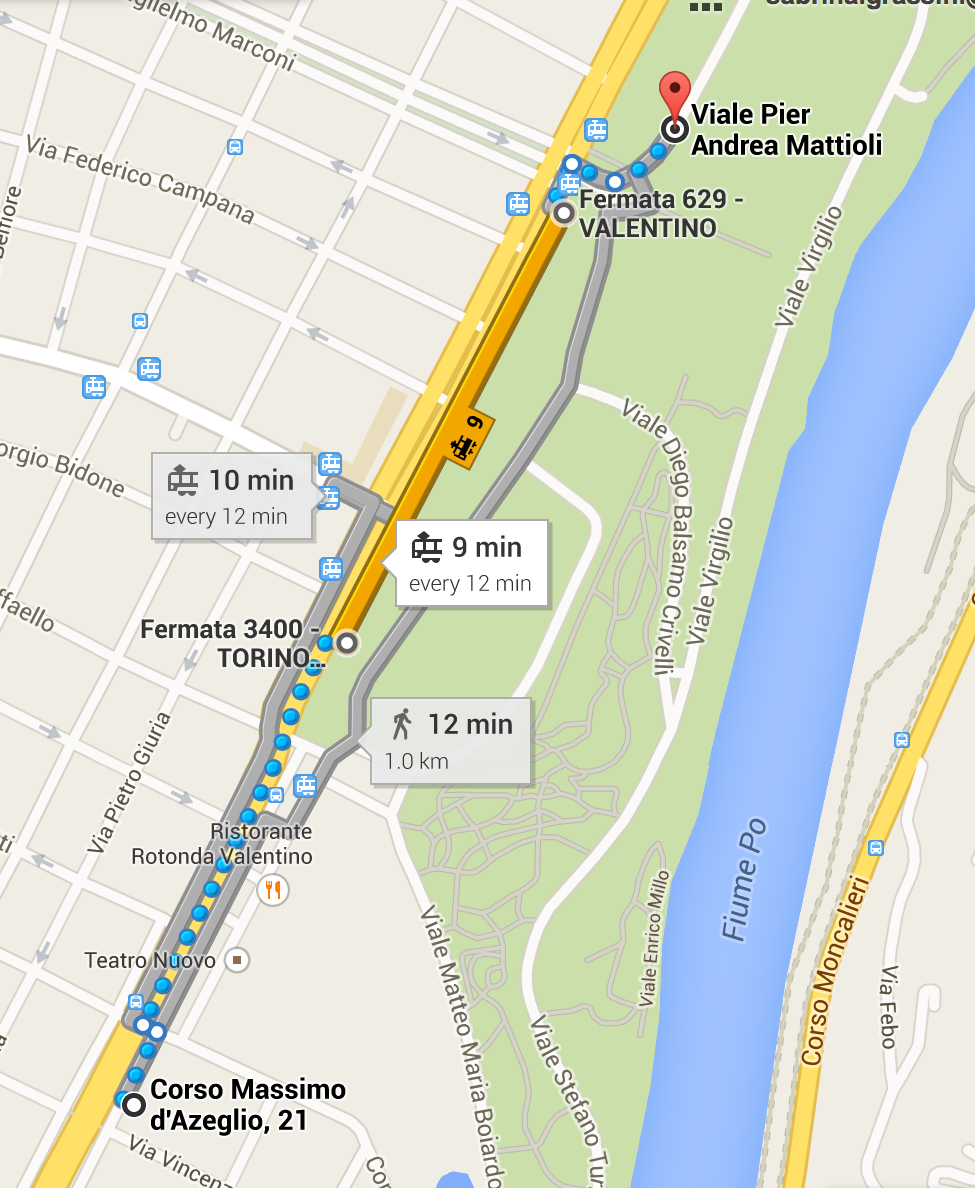 ---
Hotel NH Ambasciatori
C.so Vittorio Emanuele II, 104, 10121 Turin, Italy
IT: +39 011 57521
[email protected]
http://www.albergogenova.it/en/home-page.aspx
• Single room: 99 € per night
• Double room use single: 99 € per night
• Double room: 109 € per night
Breakfast included – free wi-fi
Early reservation: before April 8th
Please click here for the reservation form
The hotel is directly connected to Castello del Valentino, Viale Pier Andrea Mattioli, via line 9 (16 min) as shown in the map below (yellow route)